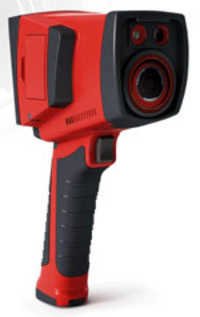 Infrared Thermography Services
Product Description
Infrared region appears between 0.8microns to 1000 microns wavelength and this spectrum is more than that of the visible spectrum. By detecting anomalies often not visible to the naked eyes, thermography allows corrective action well before costly system failure occurs.
Thermal imaging cameras detect radiation in the infrared range of the electromagnetic spectrum (roughly 900"14,000 nanometers or 0.9m) and produce images of that radiation, called thermograms.
Infrared technology gives us the ability to and measure temperatures on defective components and the normal wear, chemical contamination, corrosion, fatigue and faulty assembly in many electrical systems. The resistance or molecular friction produced within these problem areas is visible in the infrared spectrum and visible to all the infrared cameras that we offer.
Imaging Performance

Thermal

Detector Type

Uncooled FPA Micro bolometer

Uncooled FPA Micro bolometer

Spectral Range

8 to14 um

8 to14 um

Pixels

160 x 120, 25umMm

160 x 120, 25um

Sensitivity

0.1C@30C

0.1C@30C

Lens/ FOV

11mm 20.6 X 15.5°

11mm 20.6 X 15.5

Focus

Automatic and motorised (thermal & visual)

motorised (thermal )

Image Frequency

SOHZ PAL/ 6OHZ NTSC

SOHZ

Electronic Zoom

X2

K2

Palette

8

6

Visual







Built-in Digital Video

CMOS Sensor, 1600x1200 pixels(2Mpixels), 2~' true colors

CMOS Sensor.1600x1200 pixels(2Mpixels),2~' true colors

Imaging Display







External Display

3.6" TFT LCD screen

3.6" TFT LCD screen

Video Output

PAL/NTSC

N/A

Infra Fusion

Visual and IR blending

Visual and IR blending

Live thermal video recording

video recording via USB to PC

N/A

Built-in Flash

Ye

Yes
Contact Us
126-B, Somdutt Chambers-1, Bhikaji Cama place, New Delhi, Delhi, 110066, India
Phone :+918068093019