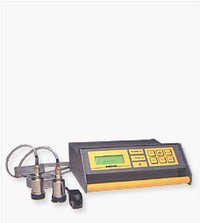 Portable Balancing Machine
Product Description
When unbalance has been identified with the help of FFT vibration analyzer, then the correction is straightforward. Weight has to be either added or removed from the rotating equipment.

Unbalance is measured and reported in two ways. One is a measure of the effect of the vibration and the other is a measure of the heavy spot. The vibration measure is used in fieldwork and embodies the speed characteristics of centrifugal force effects. In field balancing rotors runs at their own operating speed, with minimum disassembly. A basic requirement in place balancing is that the rotor has to be accessible to make corrections.

The vibration level measured at the 1*rpm is used as an indicator of the amount of unbalance. The location is determined by measuring the phase. Phase, is measured by an indicator in the instrument, triggered by a photocell.

Unbalance:

The common language definition of unbalance is the unequal distribution of the weight of a rotor about its rotating centerline.
The Formal definition of unbalance is that condition which exists in a rotor when vibratory force or motion is imparted to its bearings as a result of centrifugal forces.

The technique of field balancing offers some distinct advantages as:

Balancing is performed on the complete assembled machine and hence compensates the assembly tolerances.
The cost and time to dismantle the machine is saved.
The possibility of damage to rotor in dismantling and carrying it to balancing station is eliminated.
The effects of temperature, pressure, distortion and other environmental influences can be incorporated.
Inputs

Two inputs for accelerometers, one for reference tacho- sensor

Measurement Modes

Acceleration (RMS- m/sec ); Bearing Spike (RMS- m/sec ); Velocity (RMS-mm/sec); Displacement (PK-Pk microns)

Measurement Ranges:

Three manually selectable ranges and Auto-ranging.

Acceleration

0-2.5 to 0-250 m/sec True RMS in 3 scales.

Velocity

0-2.5 to 0-250 mm/sec True RMS in 3 scales.

Displacement

0-25 to 0-2500 microns Pk-Pk in 3 scales.

Frequency Range

ISO (10Hz-1kHz); 1Hz-1kHz ; 1Hz-10kHz; 10Hz-10kHz

Measurements

Overall Vibration measurement as per selected mode

Synchronous Vibration measurement through Auto tracking filter

Cartesian (x,y) or Polar (amount,angle) Vibration vector measurement

Min/Max/Mean of 20 overall readings

Frequency Analysis

Microprocessor controlled frequency analysis over 1 Hz-10kHz with constant percentage bandwidth filter in 1% steps over 1 Hz-1kHz and 2% steps over 1kHz- 10kHz. Facility to Pause scanning at any frequency Automatic Peak finding and display routine. Saving in Data Memory for later transfer to PC

Data Memories

Adequate for storing 24 spectra. After transfer to the PC, an almost infinite spectra can be stored on the disk of the PC.

Balalncing

Single Plane Balancing

Single Plane re-balancing without trial weight

Two-plane Balancing

Two-plane re-balancing without trial weights

Easy to follow procedure with prompting of steps.

Dimensions

288 (W) x 280 (H) x 102 (D) mm. Supplied fitted in a foam-lined briefcase

Battery

Internal rechargeable battery. Approx charge life of 6- 10 hours continuous use, and a life of approx 500 deep cycles.

Battery charger

Separately supplied as standard accessory

Temperature range

0-45 Deg C upto 90% humidity (non-condensing)

Weight

2.8 Kgms approx. without carrying case

Standard Accessories

1 Sensor with 3m lead, 1 Magnetic base, 1 reference sensor, 1 magnetic stand, 1 battery charger, Briefcase type carrying case, and 1 Operation Manual
Contact Us
126-B, Somdutt Chambers-1, Bhikaji Cama place, New Delhi, Delhi, 110066, India
Phone :+918068093019